This shop has been compensated by Collective Bias, Inc. and its advertiser. All opinions are mine alone. #nothinglikeahug #CollectiveBias
When my husband and I bought our second home, we loved the charm and character of the 1920's home with modern upgrades, as someone bought it to flip. However, with two of the bedrooms on the first floor and the other two upstairs, we knew we didn't want to be separate from our two girls while they're young, but that was no problem for us – we loved the idea of them sharing a room. In case you've wondered if you want your kiddos to room share, check out these affordable sibling sharing bedroom tips.
Note: even if all of our bedrooms were on the same floor, I would still want my girls to share. I loved sharing a room with my sister until we were in middle school, and many of my friends choose to have their kids room share, even different genders, when space is not a concern at all. So if you're on the fence at all, absolutely go for it. It fosters close bonds, teaches sharing, and even responsibility.
Affordable sibling sharing bedroom tips for little ones
1) Save on diapers & wipes.
Kids honestly aren't that expensive, but the biggest expense while they're little is diapers.
You can save on diapers and wipes every time you shop at Sam's Club, and during this holiday season, you can enjoy a limited time instant savings on Huggies® Diapers, Pants, and Wipes (get an additional $4 savings through Ibotta when you buy Huggies at Sam's Club.  12/1 – 12/25 – score!). I especially appreciate the Sam's Club Pick-Up Service so I can spend more time with my family.
HOVER OVER THE DIAPERS & WIPES IN THE IMAGE TO SHOP!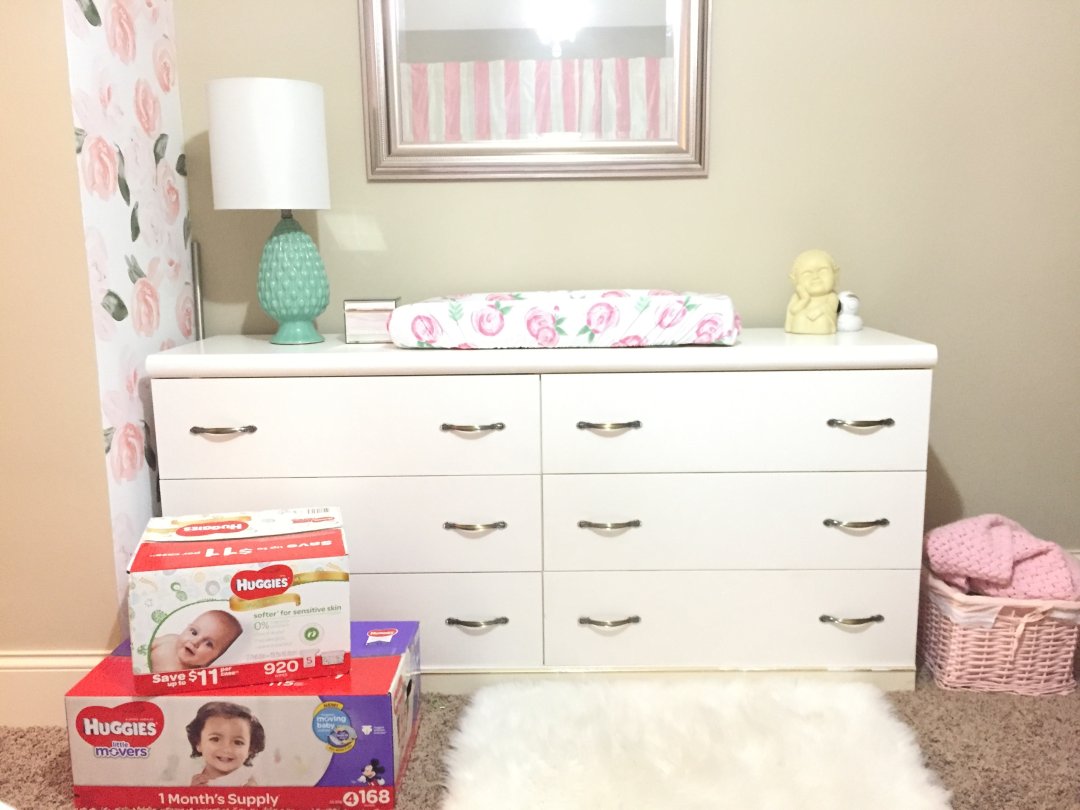 2) Use your dresser creatively.
If you don't have the space or desire to have a changing table in your kids' room, why not get creative with your dresser?
Put a changing pad on top of your dresser – it's a great space and money saver.
Keep drawers organized – use drawer organizers, especially when your kids are little, to maximize your space and clearly keep similar items together.
Use one drawer for diaper items – in my second house, I got rid of our changing table, even though we had more room. It's just not necessary! I put my girls' diaper items in the bottom drawer of one of their dressers.
With

Huggies sizing

, it's kind of funny, but both girls are in the same size diapers. However, you can easily keep different diaper sizes apart by neatly stacking a row of wipes in between.
3) Refinish second hand furniture
When you're checking out your favorite vintage store, Craigslist, or Facebook Marketplace, be sure to check the item in person before buying anything. Look past the physical aesthetic of the furniture and instead look for quality construction – test drawers, doors, and do the wobble test.
Sometimes an amazing piece of furniture has beautiful bones covered up by not-so-beautiful paint or finishing. If you find a solid piece that has a great shape, remember that you can refinish it. Sand down wood and paint it with chalk or furniture paint for a neutral or bold look. When I saw this laminate dresser for $50, I knew I couldn't pass up that deal – it has so much space in those drawers – but the shiny yellowish finish screamed 70's. No thank you. All it needed was a light sanding, white furniture paint, and new hardware to revive it.
There you have it, 3 simple, affordable sibling bedroom sharing tips. Do your kiddos share a room or did you grow up sharing with a sibling? Tell me your tips, tricks, and experiences!