When I started planning Ginny's first birthday party, I immediately envisioned a whimsical woodland party that would bring lightness and boho beauty to Chicago's ice cold winter. I created my own invitations and used them as inspiration for the decor – a light pink, peach, gold, and green color scheme with woodsy elements was the focal point of the party. Since going outside was not an option, I brought the outside in with a combination of real and artificial flowers and greenery and added a few personal touches with several DIY projects.
We opted for an afternoon party that worked around our little party girl's schedule, so we served several appetizers and desserts in lieu of a full meal. The springtime whimsy made the party feel ethereal and magical, and I even decided to keep up a few decorations because they look so lovely. Create your own woodland party for birthdays, baby or wedding showers, or even an afternoon tea.
Whimsical Woodland Party
Invitations
I purchased clip art from this Etsy shop so I could design my invitations exactly how I wanted. I created the card in Canva and had them printed at Office Depot.
Outfits
Actually before I even created the invitations, I had Ginny's spectacular dress from D. Liles Collection, which really was a catalyst for my party's vision. You can get 10% off your purchase through their website, and their dresses have been featured in Glamour Weddings! I'm not surprised. I worked with the owner Daria to pick out two very special dresses (I couldn't choose one!). Ginny wore the Grace dress for her party and will wear the Eloise dress in the future.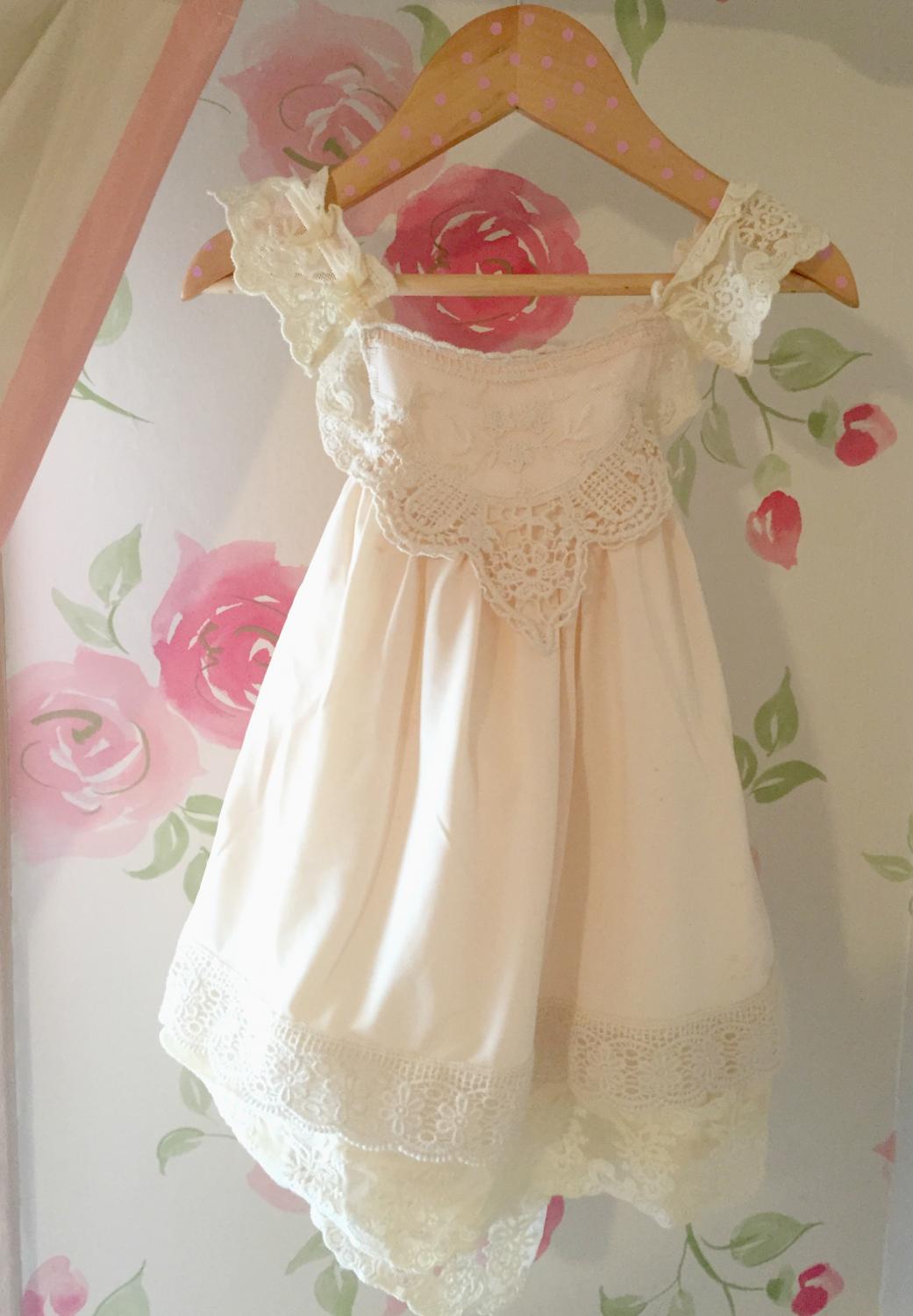 I love the beautiful lace detail that carries all the way to the back of the dress with the criss-cross straps. Breathtaking! Ginny also wore this dress for our Christmas card.
I layered a lace top over a summer dress to match the boho vibe.
Decor
Flowers, flowers, everywhere was really the method to my decorating madness. I had my husband put aside some branches back in the fall, and they worked perfectly with the real and artificial flowers and vines I decorated them with. I also draped greenery around doorways and windows for a magical forest feel and added a chalkboard to the wreath I made.
I love paper straws; these garden party straws from Twigs and Twirls were the perfect addition to Ginny's party. We used wooden flatware and toothpicks to add to the "woodsy" feel.
Photo op
I set up a little area where people could take pictures by draping a burlap and lace banner, a string of floral garland, and branches. I think it was a nice little touch!
DIY Touches
One of my DIY projects was the twig vase (below). I bought the vase at the Dollar Store and hot glued sticks to it. All in all, the project cost a whopping dollar! Can't beat that.
I made matching floral wreaths for my daughter and me, but of course I couldn't get her to put it on for more than half a second! To compromise, I made her hair clip by hot gluing little flowers that matched the decor.
Not only did I use this DIY floral letter for the party decor, but it makes a beautiful addition to Ginny's bedroom.
Special touches
I love the line from the Mumford and Son's song After the Storm, "with grace in your heart and flowers in your hair;" I thought it was very fitting for this party. I typed the lyrics over a photo in Canva and printed it for the party.
Since I'm a writer, I love the idea of documenting one's thoughts. I bought a pretty floral journal and made a flower pen for guests to write a note to Ginny. I wrote a little poem and put it in a frame with directions on it to add a personalized touch.
Cake
I made a classic chocolate Devil's Food cake with homemade whipped cream frosting (the best and easiest!). Who needs cake decorating skills when you can let pretty flowers do the work for you? If you like delicious cake (and who doesn't?) you'll also love this Chocolate Sundae Cake.
If you'd like me to make tutorials for any of the DIY projects or recipes, please leave a comment below. What are your favorite party themes?