Ginny's playroom makeover is a long time coming, and I am thrilled to reveal her travel themed playroom transformation. When we first bought our house, we had the perfect little room for a home office, and once Ginny came, we knew it would be ideal for a playroom – so out with the desks and in with…all of the "stuff." My first attempt at her playroom was literally just using the space as an overflow for all of the lovely items people bought us for our shower and when she was born. It was perfect – Ginny was too small to play with most toys anyway, and the room is tucked away where I would never have to see it if I didn't want to. But then, as things tend to happen, Ginny grew up and actually had a need for her own space to play.
I knew I had to face that dreaded room, stashed with "stuff" and "things." I knew I wanted an adorable space for her to learn and play and grow in, but the room was little and didn't look like the extravagant rooms I saw on Pinterest. I'm happy to share with you that if you have a "regular" house like me, you can makeover your playroom, too.
Travel Themed Playroom
Before
Fortunately, I never took a picture of the room when it was used to stash toys and miscellaneous items, but I did get a picture of the room before the makeover so you could see the transformation. There's nothing overtly awful about it; it's just kind of plain and sad.
After
I'll take you through the easy-to-implement changes for our travel themed playroom.
Paint: To brighten up the space, I wanted to get rid of the beige paint and lighten it up with a cloud white. It reflects the natural light beautifully and gives the illusion of a larger room. Instead of keeping the room all one color, I brought in a light seafoam green hue to give the space a little life. After all, it is a playroom.
Rug: Our room was already carpeted, but I enjoy layering rugs and actually already had a perfect one in a different room in my house from Target. Whether or not you have carpeting in your playroom, adding a thick accent rug adds instant interest and comfort to your room.
Furniture: I knew my husband was handy, but who knew he was this crafty? He made a desk, chair, and toy box for Ginny. My favorite furniture and overall style vibes is anything Restoration Hardware. We recreated the beautiful Restoration Hardware finish on our custom pieces, handmade with love. And by we, I clearly mean only my husband. If anyone wants me to blog about his plans for these pieces, let me know.
A storage cube is an essential part of your playroom. Choose a sturdy piece of furniture, or secure it to the wall, because your little ones will be pulling toys off it. I love this affordable find from the Better Homes and Garden collection; it comes in various finishes and can also be positioned vertically.
Gallery wall: After our paint job, I had this large blank white space that was beckoning to be a gallery wall. I found the most genius thing at Hobby Lobby: packs of gallery wall photos! They come in all different themes and styles and even give you gallery wall configuration ideas. I only used eight pictures, but I have so many others to choose from that I can't wait to use in other places around my house or as a cute gift idea.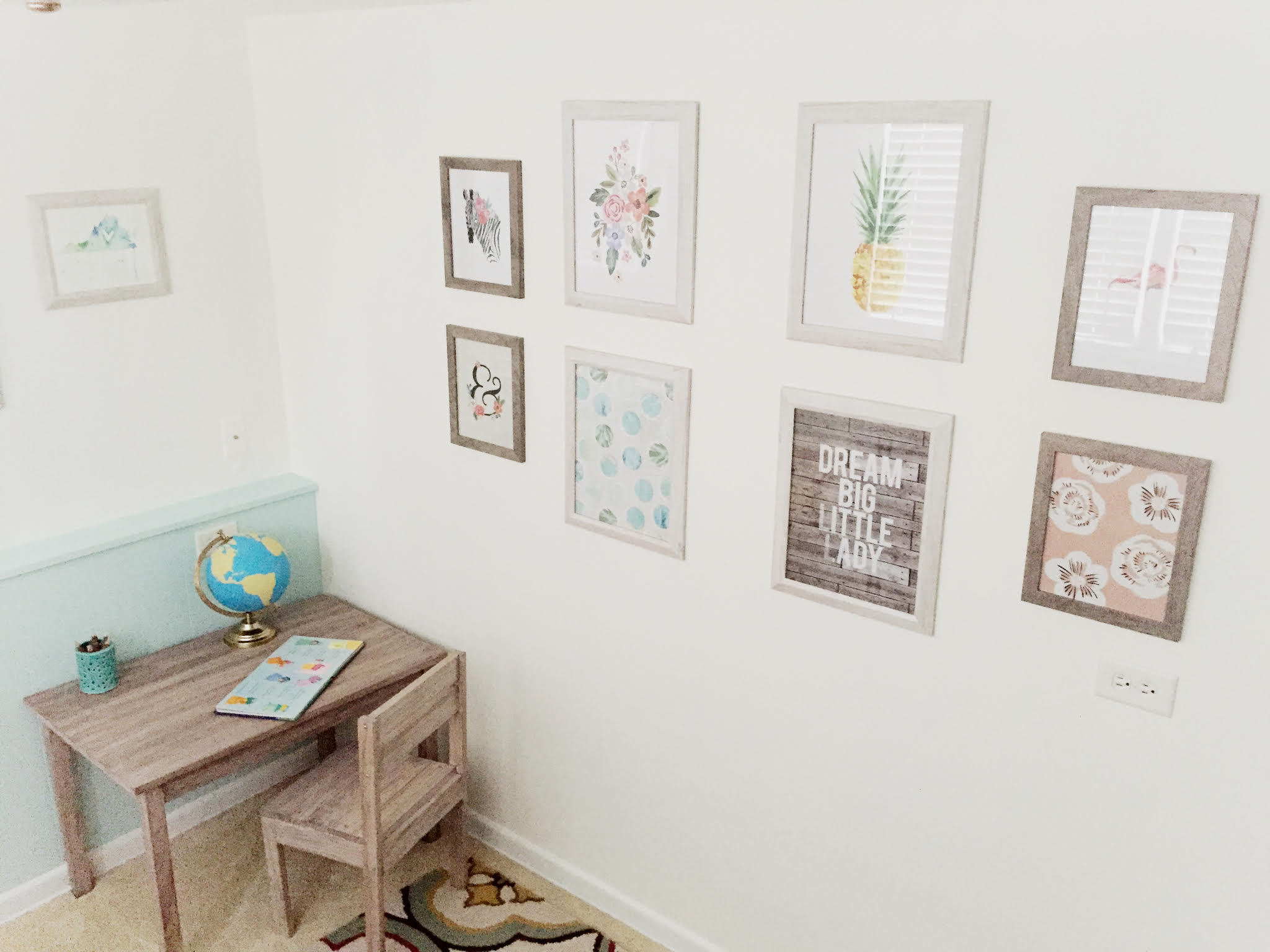 Chair: Parents spend a lot of time playing on the floor, so be sure to include an adult-sized chair for you to sit on and give your knees a break! I included this lovely printed armless chair from Target in our little reading corner, positioned beneath two shelves of books.
Travel-themed touches
I knew I wanted to do a travel themed room when I came across these two Etsy shops: Poppy and Pinecone and The August Reign. I centered my vision around the World Love map from Poppy and Pinecone and The August Reign's custom globes, and the design grew from there.
You guys, I'm obsessed with my pieces from these shops, and both shop owners were complete delights to work with. I quickly bought two other prints from Poppy, an American watercolor piece and the state of Virginia with a heart in it, because my daughter's name is Virginia. How perfect is that? The colors are so beautiful, they just make me incredibly happy, and I want to buy all of them.
I loved that for my globe, everything was customizeable – the color of the globe, the lettering color, the actual text, and so many other options! I went with the saying "Spread kindness all over the world" because it fits my philosophy of life and my promise of kindness to Ginny.
Travel books: I chose my favorite books to display on two floating shelves that are purposefully out of the kid-reach zone; they're such beautiful, special books that I don't want them chewed on before Ginny can really appreciate and learn from them!
Lasting thoughts
I never thought my dull, uninspiring little space could turn into such a lovely vibrant room filled with fun, playing, and learning. Even YOU, with your "normal" house like me, can makeover your kids' playroom.
Would you consider a travel theme as a child's play or bedroom? What were your favorite features of Ginny's room?
Be sure to check out Poppy and Pinecone and The August Reign